Using statistics and analysis tools for analyzing a website or checking the indicators of web performance is an extremely important task that webmasters need to perform regularly.
Those analytical data will help you understand the behavior and needs of customers on the site, thereby promptly making effective optimization plans or better business strategies.
However, how can web performance metrics be tracked and analyzed accurately?
Here are the top 5 most effective tools for analysis and web traffic statistics.
1. What is website analytics?
Website Analytics is defined as the monitoring, measurement, collection, analysis, and reporting of actual activity data of a site. This information helps webmasters better understand the website's performance. This statistics is possible to suggest ways to optimize the website to work more effectively.
In addition to measuring data about web traffic, using web analytics tools also helps webmasters as well as SEOers to research and understand customer behavior on the site
Also, web owners can analyze and measure the effectiveness of advertising campaigns, such as a change in website traffic, daily detailed views of each page or product, bounce rate, time staying on the page…
This series of activities can help businesses and shop owners assess and capture market trends as well as the needs of target customers.
To understand all these data, the webmasters have to install a small code into websites to collect the correct information telling about the site performance.
When using the analysis tools, you need to pay attention to these data:
The analysis tool helps webmasters and SEOers do measure and statistics of the web performance with the following important data:
Website Traffic: Get tracks & statistics of web visits in a specific period of time, source, location, access device, session, or by advertising campaigns.
Time on site: Know the average time users spend on a page. The higher the time on site is, the better the content your website is providing to your target customers and the better the user experience on the site.
Bounce rate: Study the percentage of visitors who leave the page immediately without seeing another page.
Conversion rate: Search the rate of visitors visiting the website and doing an action, such as buying, registering a form, leaving advice … on the page.
Top viewed page: Know the most viewed pages and the total number of views of the page, which can support the webmasters and SEOers to focus on developing those pages.
To understand more in detail the advantages and disadvantages of each website analysis tool, please continue to follow the content below.
2. The most effective tools using for web analysis and visit statistics
You can find many tools to support effective website analysis on the market, including both free and paid tools.
Here is a list of the top 5 most commonly used website analytics and web traffic statistics tools:
2.1 Google Analytics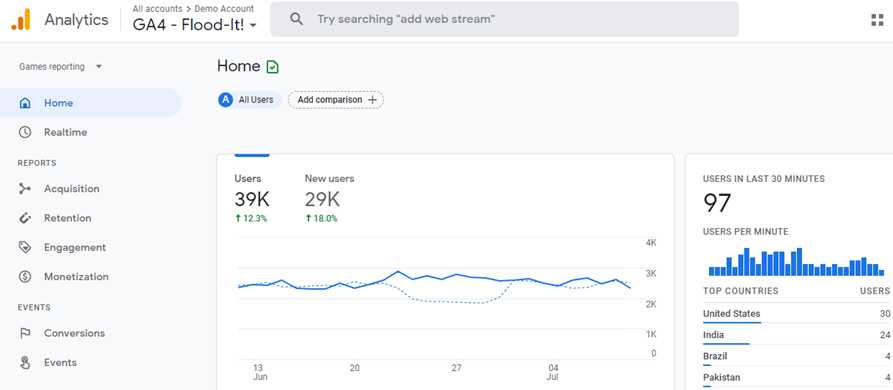 Google Analytics is one of the most used analysis tools for websites, built and developed by the giant Google.
Google Analytics not only provides data related to statistics of website visitors, but also provides detailed analysis of their behavior on the page, how they came to your website and how you can keep them coming back, also allowing webmasters to measure ROI of sales and conversion.
In addition, Google Analytics can give recommendations to optimize the website, improve conversion and interaction rates, user experience on the page, rankings on search engines, etc.
All these tips are very useful to manage content, product, marketing campaign, following visitor behavior.
Advantages:
Analyze website data accurately and quickly
Have simple interface, easy to use
Can get measure and statistics of important metrics related to website traffic, conversion rate, and effectiveness of advertising campaigns
Be a free tool
Disadvantages:
To use Google Analytics, you need to create and install the code of Google Analytics on your website.
For those who do not have too much knowledge about technology or do not have experience in website administration, this is a rather annoying problem.
>>> You may want to learn what metrics on Google Analytics reports are.
2.2 Google Search Console (formerly Google Webmaster Tools)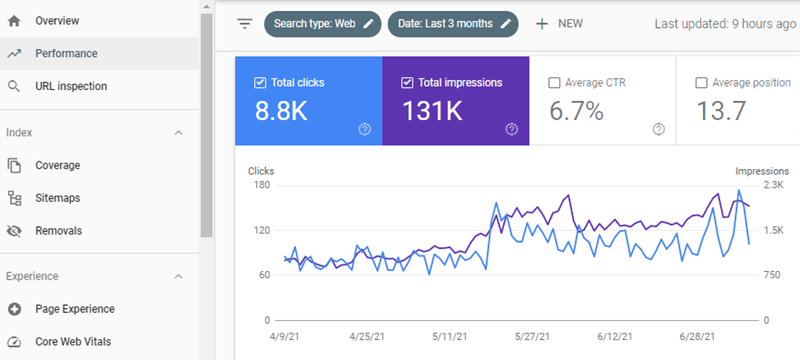 Google Search Console is a familiar and indispensable tool for webmasters and SEOers. As a free tool from Google.
Google Search Console helps webmasters check the traffic and index status, and much useful information to optimize web performance.
Through Google Search Console, you can also easily track the customer's keywords and phrases on your site and their rankings on Google search results.
Also, you can know a lot of information about links, robots.txt file, sitemap data, and user experience issues on the page through the category on the dashboard of Google Search Console.
Advantages:
Analyze website data accurately and quickly
Offer friendly interface, easy to use
Get correct measures and statistics related to traffic, indexing status, link health, and useful suggestions to do on-page seo
Being a free tool
Disadvantages:
Similar to Google Analytics, to use Google Search Console you need to create and install the code on your website to start using this tool. Please see the detail guide how to add a website to Google Search Console!
2.3 Similarweb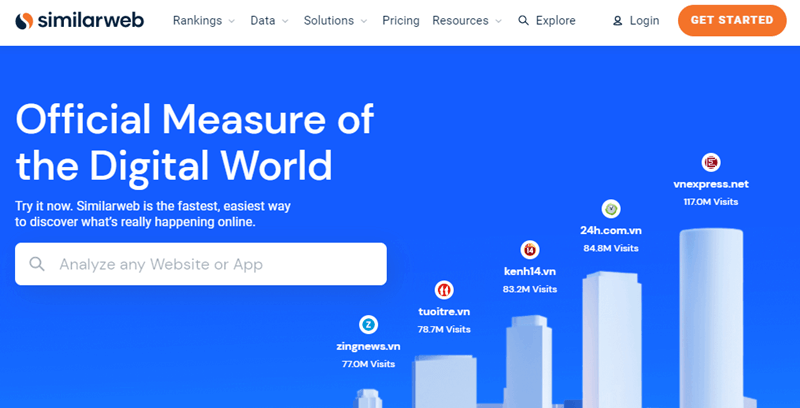 Similarweb is a widely used online analysis tool for websites.
Similarweb not only helps you measure your website performance, but also supports you to analyze competitors' websites in the same industry.
Advantages:
Analyze data on website ratings, user engagement, and traffic
Support to analyze data about competitor's website
Know effective measures and statistics related to traffic, indexing status, link health, and on-page query rank
Be an effective SEO tool for websites
Be a free online tool, no account registration and no installation required
Disadvantages:
Similarweb can only analyze and statistics the performance of big websites, operating for at least 3 months or more and having traffic over 1,000.
Analysis results of Similarweb are approximate.
2.4 Ahrefs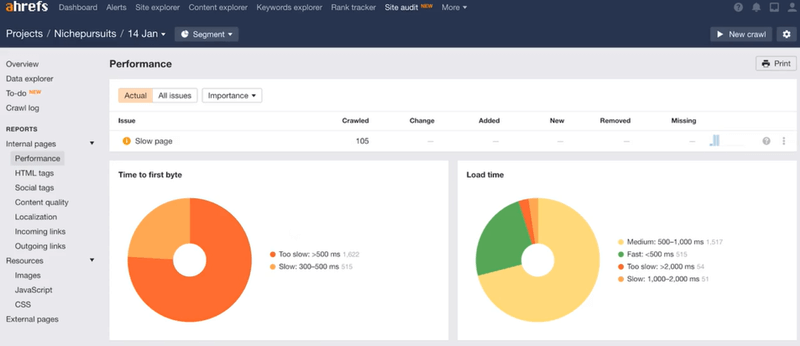 Ahrefs is one of the perfect tools offering analysis data comprehensive in SEO. Ahrefs allows users to monitor website rankings, traffic, keyword research, find opportunities to increase website traffic, build backlinks…
Also, Ahrefs is a tool to help analyze competitors' websites effectively.
Advantages:
Support to measure and statistics data on keywords, rankings, backlinks, and competitors.
Being a great SEO-supporting tool for the website
Do not require installation, just register an account to use
Disadvantages:
Limited statistical reports on website traffic data
The traffics and rankings on Ahrefs are only approximate and cannot be tracked in real-time during the day.
A paid tool
2.5 Crazy Egg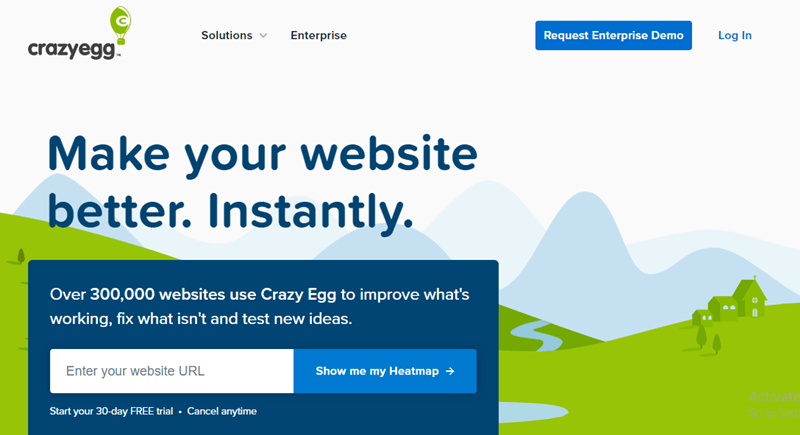 Crazy Egg, a useful website analysis tool, allows webmasters to see the detailed behavior of readers.
This information can help you make accurate assessments to improve the quality and design of your site, increase customer experience, and on-page conversion rates.
Although Crazy Egg also provides information about visitor traffic, it focuses more on tracking and analyzing mouse movements, clicks, and scrolls of users on the pages.
Crazy Egg turns all of the above into a visual heat map so webmasters can easily see where users pay the most attention and where they skip.
Advantages:
Analyze customer behavior displayed in the form of a heat map, thereby helping to make accurate assessments to improve the user experience on the website
No need to install it, you can use it directly on the website Crazy Egg
Disadvantages:
Quite limited statistical reports on traffic data
Interface hard to follow
Is a paid tool
Conclusion
The above is a summary of some of the most selected analysis tools that I would like to suggest to webmasters.
Hopefully, these tools will help you monitor the website's performance index and understand the behavior of customers on the page. Then, you can promptly create optimization plans and improve your business effectively.
If you are a beginner in SEO or webmaster role, Google Analytics and Google Search Console are must-installed tools that you need to check carefully.
The other tools mentioned can be useful when you want to have a deeper look into your website and competitors' sites.
Using these tools is difficult for beginners. But, when you know how to read data on these tools, they are perfect assistants that you can miss.
To collect the useful data from your site through these tools, your website needs to have enough quantity of posts written correct seo content. Only then, with a certain number of readers, you can get the right statistics to improve the user experience of your website.
managing a site, your website has to have enough quantity of posts which can perform with
Which tools do you want to use?